About Us
Chi Nar Kitchen is a Chinese takeaway in Liverpool. Why don't you try our Pork in O.K. Sauce or Prawn in O.K. Sauce?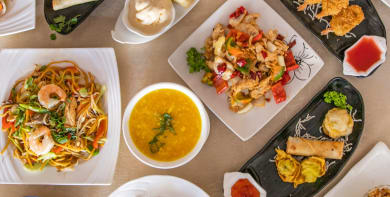 Reviews
323 reviews
Sam
"One of the best around"
30/11/2020
Matthew
"Peking Rins and Salt & Pepper chips are the best I've had. Great food and on time to the minute. Would definitely use again."
27/11/2020
hayley
"Always lovely food from here my kids have discovered the salt and pepper box and are made up with it 😀"
25/11/2020
Jean
"Amazing as usual"
22/11/2020
Menu
King Prawn with Pineapple
£6.10
Chicken Nuggets (4) & Chips
£3.90
King Prawn with Ginger & Pineapple
£6.30
King Prawn with Baby Corn
£6.10
King Prawn with Baby Corn
£5.80
Chicken with Ginger & Pineapple
£5.80
Deep Fried Crispy Chicken Chinese Style
£5.70
Salt & Pepper King Prawns
£6.30
Salt & Pepper Shredded Chicken
£5.90
King Prawn in Sea Spice Sauce
£6.10
King Prawn in Szechuan Sauce
£6.10
King Prawn in Kung Po Sauce
£6.10
Chicken in Sea Spice Sauce
£5.70
Chicken in Szechuan Sauce
£5.70
Prawn with Cashewnuts in Yellow Bean Sauce
£5.80
Pork with Cashewnuts in Yellow Bean Sauce
£5.80
Beef with Cashewnuts in Yellow Bean Sauce
£5.80
Chicken with Cashewnuts in Yellow Bean Sauce
£5.80
King Prawn with Cashewnuts in Yellow Bean Sauce
£6.30
Bottle Of Diet Coke - 1.5L
£2.30
Red Bull Energy Drink - 250ml
£1.99
Shredded Chicken in Chilli & Garlic Sauce
£5.90
Shredded Beef in Chilli & Garlic Sauce
£5.90
King Prawn in Chilli Sauce
£6.10
Wan Ton Char Siu Noodle Soup
£5.00
Crab Meat & Sweetcorn Soup
£2.40
King Prawn in O.K. Sauce
Contains:
Nuts
£6.10
Chicken in O.K. Sauce
Contains:
Nuts
£5.70
Beef in O.K. Sauce
Contains
Nuts
£5.70
Prawn in O.K. Sauce
Contains:
Nuts
£5.70
Pork in O.K. Sauce
Contains:
Nuts
£5.70
Special in O.K. Sauce
Contains:
Nuts
£5.90
Set Meal A For 2 People
Chicken & sweetcorn soup
Prawn crackers
Barbecued spare ribs
Sweet & sour pork
Fried chicken with mixed vegetable in oyster sauce
Fried beef with green peppers in black bean sauce
Egg fried rice
£17.40
Set Meal A For 3 People
Chicken & sweetcorn soup
Prawn crackers
Barbecued spare ribs
Sweet & sour pork
Fried chicken with mixed vegetable in oyster sauce
Fried beef with green peppers in black bean sauce
Egg fried rice
£26.10
Set Meal A For 4 People
Chicken & sweetcorn soup
Prawn crackers
Barbecued spare ribs
Sweet & sour pork
Fried chicken with mixed vegetable in oyster sauce
Fried beef with green peppers in black bean sauce
Egg fried rice
£34.80
Set Meal B For 2 People
Chicken & sweetcorn soup
Prawn crackers
Barbecued spare ribs
Sweet & sour chicken balls
Fried prawn with mixed vegetables
Fried beef in satay sauce
Egg fried rice
£17.40
Set Meal B For 3 People
Chicken & sweetcorn soup
Prawn crackers
Barbecued spare ribs
Sweet & sour chicken balls
Fried prawn with mixed vegetables
Fried beef in satay sauce
Egg fried rice
£26.10
Set Meal B For 4 People
Chicken & sweetcorn soup
Prawn crackers
Barbecued spare ribs
Sweet & sour chicken balls
Fried prawn with mixed vegetables
Fried beef in satay sauce
Egg fried rice
£34.80
Set Meal C For 2 People
Crabmeat & sweetcorn soup
Prawn crackers
Peking spare ribs (H)
Roast duck in Hong Kong style
Fried chicken with mushroom in Chinese sauce
Sweet & sour king prawn
Egg fried rice
£18.40
Set Meal C For 3 People
Crabmeat & sweetcorn soup
Prawn crackers
Peking spare ribs (H)
Roast duck in Hong Kong style
Fried chicken with mushroom in Chinese sauce
Sweet & sour king prawn
Egg fried rice
£27.60
Set Meal C For 4 People
Crabmeat & sweetcorn soup
Prawn crackers
Peking spare ribs (H)
Roast duck in Hong Kong style
Fried chicken with mushroom in Chinese sauce
Sweet & sour king prawn
Egg fried rice
£36.80
Set Meal D For 2 People
Crab meat & sweetcorn soup
Prawn crackers
Peking spare ribs (H)
Crispy duck with pancakes
Deep fried crispy chicken Chinese style
Fried king prawn in chilli sauce (H)
Egg fried rice
£20.40
Set Meal D For 3 People
Crab meat & sweetcorn soup
Prawn crackers
Peking spare ribs (H)
Crispy duck with pancakes
Deep fried crispy chicken Chinese style
Fried king prawn in chilli sauce (H)
Egg fried rice
£30.60
Set Meal D For 4 People
Crab meat & sweetcorn soup
Prawn crackers
Peking spare ribs (H)
Crispy duck with pancakes
Deep fried crispy chicken Chinese style
Fried king prawn in chilli sauce (H)
Egg fried rice
£40.80
Set Meal E For 2 People
Sweetcorn soup
Mixed vegetables in blackbean sauce
Mixed vegetables in oyster sauce
Sweet & sour mushroom
Egg fried rice
£13.40
Set Meal E For 3 People
Sweetcorn soup
Mixed vegetables in blackbean sauce
Mixed vegetables in oyster sauce
Sweet & sour mushroom
Egg fried rice
£20.10
Set Meal E For 4 People
Sweetcorn soup
Mixed vegetables in blackbean sauce
Mixed vegetables in oyster sauce
Sweet & sour mushroom
Egg fried rice
£26.80
Spare Ribs in Barbecued Sauce
£5.90
Spare Ribs in Black Bean Sauce
£5.90
Spare Ribs in Chinese Sauce
£5.90
Spare Ribs in Peking sauce
£5.90
Spare Ribs in Satay Sauce
£5.90
Roast Duck & Chinese Vegetables in Oyster Sauce
£6.60
Roast Duck Peking Style
Contains:
Nuts
£6.60
Roast Duck with Ginger & Spring Onions
£6.60
Roast Duck with Green Pepper in Blackbean Sauce
£6.60
Roast Duck with Pineapple
£6.60
Crispy Duck Hong Kong Style
£6.60
Singapore Mixed Vegetable Chow Mein
£5.10
Singapore Mushroom Fried Rice
£5.10
Mixed Vegetable Chow Mein
£5.10
Mixed Vegetable in Blackbean Sauce
£5.10
Mixed Vegetable in Chilli Sauce
£5.10
Mixed Vegetable in Chinese Sauce
£5.10
Mixed Vegetable in Curry Sauce
£5.10
Mixed Vegetable in Kung Po Sauce
£5.10
Mixed Vegetable in O.K. Sauce
£5.10
Mixed Vegetable in Oyster Sauce
£5.10
Mixed Vegetable in Satay Sauce
Contains:
Nuts
£5.10
Mixed Vegetable in Sea Spice Sauce
£5.10
Mixed Vegetable in Sweet & Sour Sauce
£5.10
Mixed Vegetable in Szechuan Sauce
£5.10
Mixed Vegetable in Tomato Sauce
£5.10
Mixed Vegetable in Yellow Bean Sauce
£5.10
1/2 Fried Rice, 1/2 Chips & Sauce
£3.60
Bamboo Shoot & Water Chestnut
£2.80
Fried Prawn with Cashew Nuts
£5.80
Fried Duck with Cashew Nuts
£6.80
Fried King Prawn with Cashew Nuts
£6.30
Fried Chicken with Cashew Nuts
£5.80
Fried Beef with Cashew Nuts
£5.80
King Prawn in Special Sauce
£6.30
Beef with Mushroom in Chinese Sauce
£5.70
Chicken with Mushroom in Chinese Sauce
£5.70
King Prawn with Mushroom in Chinese Sauce
£6.10
Shredded Chicken in Chinese sauce
£5.90
Pork with Mushroom in Chinese Sauce
£5.70
Prawn with Mushroom in Chinese Sauce
£5.70
Shredded Beef in Chinese Sauce
£5.90
Fried Beef with Green Peppers & Black Bean Sauce
£5.60
Fried Chicken with Green Peppers
In black bean sauce
£5.60
Fried Pork with Green Peppers & Black Bean Sauce
£5.60
Fried King Prawn with Green Peppers
In black bean sauce
£6.10
King Prawn with Ginger & Spring Onions
£6.30
Beef with Ginger & Spring Onions
£5.80
Chicken with Ginger & Spring Onions
£5.80
Fried King Prawn with Oyster Sauce
£6.10
Fried Prawn with Oyster Sauce
£5.60
Fried Pork with Oyster Sauce
£5.60
Fried Chicken with Oyster Sauce
£5.60
Fried Beef with Oyster Sauce
£5.60
Fried Beef with Satay Sauce
£5.60
Fried Chicken with Satay Sauce
£5.60
Fried Pork with Satay Sauce
£5.60
Fried Prawn with Satay Sauce
£5.60
Fried King Prawn with Satay Sauce
£6.10
Cantonese Sweet & Sour Chicken
£5.80
Sweet & Sour Chicken Battered Balls
£5.60
Sweet & Sour Pork Battered Balls
£5.60
Vegetable Spring Rolls (4)
£3.20
Chicken Wings in OK Sauce
Contains:
Nuts
£4.10
Crispy Combination
Spare ribs (2), Spring Rolls (2), Won Ton (2), Sweet & Sour Chicken (2)
£6.00
Crispy Duck & Pancake
6 Pancakes
£7.30
Minced King Prawn & Ham Crispy Rolls (2)
£4.50
Salt & Pepper Box
Salt & Pepper Chicken Wings, Salt & Pepper Ribs, Salt & Pepper Chicken Pieces, Salt & Pepper Chips, Crispy Spring Rolls, Onion Rings & Curry Sauce or BBQ Sauce
£9.00
Contact Us
Find Us
46 Penny Lane, Liverpool, L181DG
We deliver to
L15, L16, L17, L18, L19, L25, L8