About Us
Chi Nar Kitchen is a Chinese takeaway in Liverpool. Why don't you try our Pork in O.K. Sauce or Prawn in O.K. Sauce?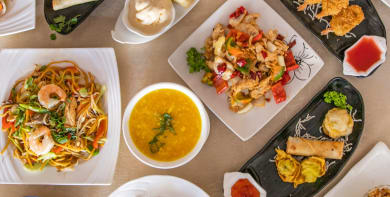 Reviews
334 reviews
Antony
"We had almost given up on Chinese takeaways until a friend suggested this place."
08/04/2021
Dogukan
"Rice could be better, mains were really delicious."
08/04/2021
Gillian
"Very good quality food - well priced- delivered within the stated time"
03/04/2021
shirley
"always very quick delivery and food is beautiful as always and driver always very pleasant and polite"
25/03/2021
Menu
King Prawn with Pineapple
£6.10
Chicken Nuggets (4) & Chips
£3.90
King Prawn with Ginger & Pineapple
£6.30
King Prawn with Baby Corn
£6.10
King Prawn with Baby Corn
£5.80
Chicken with Ginger & Pineapple
£5.80
Deep Fried Crispy Chicken Chinese Style
£5.70
Salt & Pepper King Prawns
£6.30
Salt & Pepper Shredded Chicken
£5.90
King Prawn in Sea Spice Sauce
£6.10
King Prawn in Szechuan Sauce
£6.10
King Prawn in Kung Po Sauce
£6.10
Chicken in Sea Spice Sauce
£5.70
Chicken in Szechuan Sauce
£5.70
Prawn with Cashewnuts in Yellow Bean Sauce
£5.80
Pork with Cashewnuts in Yellow Bean Sauce
£5.80
Beef with Cashewnuts in Yellow Bean Sauce
£5.80
Chicken with Cashewnuts in Yellow Bean Sauce
£5.80
King Prawn with Cashewnuts in Yellow Bean Sauce
£6.30
Bottle Of Diet Coke - 1.5L
£2.30
Shredded Chicken in Chilli & Garlic Sauce
£5.90
Shredded Beef in Chilli & Garlic Sauce
£5.90
King Prawn in Chilli Sauce
£6.10
Wan Ton Char Siu Noodle Soup
£5.00
Crab Meat & Sweetcorn Soup
£2.40
King Prawn in O.K. Sauce
Contains:
Nuts
£6.10
Chicken in O.K. Sauce
Contains:
Nuts
£5.70
Beef in O.K. Sauce
Contains
Nuts
£5.70
Prawn in O.K. Sauce
Contains:
Nuts
£5.70
Pork in O.K. Sauce
Contains:
Nuts
£5.70
Special in O.K. Sauce
Contains:
Nuts
£5.90
Set Meal A For 2 People
Chicken & sweetcorn soup
Prawn crackers
Barbecued spare ribs
Sweet & sour pork
Fried chicken with mixed vegetable in oyster sauce
Fried beef with green peppers in black bean sauce
Egg fried rice
£17.40
Set Meal A For 3 People
Chicken & sweetcorn soup
Prawn crackers
Barbecued spare ribs
Sweet & sour pork
Fried chicken with mixed vegetable in oyster sauce
Fried beef with green peppers in black bean sauce
Egg fried rice
£26.10
Set Meal A For 4 People
Chicken & sweetcorn soup
Prawn crackers
Barbecued spare ribs
Sweet & sour pork
Fried chicken with mixed vegetable in oyster sauce
Fried beef with green peppers in black bean sauce
Egg fried rice
£34.80
Set Meal B For 2 People
Chicken & sweetcorn soup
Prawn crackers
Barbecued spare ribs
Sweet & sour chicken balls
Fried prawn with mixed vegetables
Fried beef in satay sauce
Egg fried rice
£17.40
Set Meal B For 3 People
Chicken & sweetcorn soup
Prawn crackers
Barbecued spare ribs
Sweet & sour chicken balls
Fried prawn with mixed vegetables
Fried beef in satay sauce
Egg fried rice
£26.10
Set Meal B For 4 People
Chicken & sweetcorn soup
Prawn crackers
Barbecued spare ribs
Sweet & sour chicken balls
Fried prawn with mixed vegetables
Fried beef in satay sauce
Egg fried rice
£34.80
Set Meal C For 2 People
Crabmeat & sweetcorn soup
Prawn crackers
Peking spare ribs (H)
Roast duck in Hong Kong style
Fried chicken with mushroom in Chinese sauce
Sweet & sour king prawn
Egg fried rice
£18.40
Set Meal C For 3 People
Crabmeat & sweetcorn soup
Prawn crackers
Peking spare ribs (H)
Roast duck in Hong Kong style
Fried chicken with mushroom in Chinese sauce
Sweet & sour king prawn
Egg fried rice
£27.60
Set Meal C For 4 People
Crabmeat & sweetcorn soup
Prawn crackers
Peking spare ribs (H)
Roast duck in Hong Kong style
Fried chicken with mushroom in Chinese sauce
Sweet & sour king prawn
Egg fried rice
£36.80
Set Meal D For 2 People
Crab meat & sweetcorn soup
Prawn crackers
Peking spare ribs (H)
Crispy duck with pancakes
Deep fried crispy chicken Chinese style
Fried king prawn in chilli sauce (H)
Egg fried rice
£20.40
Set Meal D For 3 People
Crab meat & sweetcorn soup
Prawn crackers
Peking spare ribs (H)
Crispy duck with pancakes
Deep fried crispy chicken Chinese style
Fried king prawn in chilli sauce (H)
Egg fried rice
£30.60
Set Meal D For 4 People
Crab meat & sweetcorn soup
Prawn crackers
Peking spare ribs (H)
Crispy duck with pancakes
Deep fried crispy chicken Chinese style
Fried king prawn in chilli sauce (H)
Egg fried rice
£40.80
Set Meal E For 2 People
Sweetcorn soup
Mixed vegetables in blackbean sauce
Mixed vegetables in oyster sauce
Sweet & sour mushroom
Egg fried rice
£13.40
Set Meal E For 3 People
Sweetcorn soup
Mixed vegetables in blackbean sauce
Mixed vegetables in oyster sauce
Sweet & sour mushroom
Egg fried rice
£20.10
Set Meal E For 4 People
Sweetcorn soup
Mixed vegetables in blackbean sauce
Mixed vegetables in oyster sauce
Sweet & sour mushroom
Egg fried rice
£26.80
Spare Ribs in Barbecued Sauce
£5.90
Spare Ribs in Black Bean Sauce
£5.90
Spare Ribs in Chinese Sauce
£5.90
Spare Ribs in Peking sauce
£5.90
Spare Ribs in Satay Sauce
£5.90
Roast Duck & Chinese Vegetables in Oyster Sauce
£6.60
Roast Duck Peking Style
Contains:
Nuts
£6.60
Roast Duck with Ginger & Spring Onions
£6.60
Roast Duck with Green Pepper in Blackbean Sauce
£6.60
Roast Duck with Pineapple
£6.60
Crispy Duck Hong Kong Style
£6.60
Singapore Mixed Vegetable Chow Mein
£5.10
Singapore Mushroom Fried Rice
£5.10
Mixed Vegetable Chow Mein
£5.10
Mixed Vegetable in Blackbean Sauce
£5.10
Mixed Vegetable in Chilli Sauce
£5.10
Mixed Vegetable in Chinese Sauce
£5.10
Mixed Vegetable in Curry Sauce
£5.10
Mixed Vegetable in Kung Po Sauce
£5.10
Mixed Vegetable in O.K. Sauce
£5.10
Mixed Vegetable in Oyster Sauce
£5.10
Mixed Vegetable in Satay Sauce
Contains:
Nuts
£5.10
Mixed Vegetable in Sea Spice Sauce
£5.10
Mixed Vegetable in Sweet & Sour Sauce
£5.10
Mixed Vegetable in Szechuan Sauce
£5.10
Mixed Vegetable in Tomato Sauce
£5.10
Mixed Vegetable in Yellow Bean Sauce
£5.10
1/2 Fried Rice, 1/2 Chips & Sauce
£3.60
Bamboo Shoot & Water Chestnut
£2.80
Fried Prawn with Cashew Nuts
£5.80
Fried Duck with Cashew Nuts
£6.80
Fried King Prawn with Cashew Nuts
£6.30
Fried Chicken with Cashew Nuts
£5.80
Fried Beef with Cashew Nuts
£5.80
King Prawn in Special Sauce
£6.30
Beef with Mushroom in Chinese Sauce
£5.70
Chicken with Mushroom in Chinese Sauce
£5.70
King Prawn with Mushroom in Chinese Sauce
£6.10
Shredded Chicken in Chinese sauce
£5.90
Pork with Mushroom in Chinese Sauce
£5.70
Prawn with Mushroom in Chinese Sauce
£5.70
Shredded Beef in Chinese Sauce
£5.90
Fried Beef with Green Peppers & Black Bean Sauce
£5.60
Fried Chicken with Green Peppers
In black bean sauce
£5.60
Fried Pork with Green Peppers & Black Bean Sauce
£5.60
Fried King Prawn with Green Peppers
In black bean sauce
£6.10
King Prawn with Ginger & Spring Onions
£6.30
Beef with Ginger & Spring Onions
£5.80
Chicken with Ginger & Spring Onions
£5.80
Fried King Prawn with Oyster Sauce
£6.10
Fried Prawn with Oyster Sauce
£5.60
Fried Pork with Oyster Sauce
£5.60
Fried Chicken with Oyster Sauce
£5.60
Fried Beef with Oyster Sauce
£5.60
Fried Beef with Satay Sauce
£5.60
Fried Chicken with Satay Sauce
£5.60
Fried Pork with Satay Sauce
£5.60
Fried Prawn with Satay Sauce
£5.60
Fried King Prawn with Satay Sauce
£6.10
Cantonese Sweet & Sour Chicken
£5.80
Sweet & Sour Chicken Battered Balls
£5.60
Sweet & Sour Pork Battered Balls
£5.60
Vegetable Spring Rolls (4)
£3.20
Chicken Wings in OK Sauce
Contains:
Nuts
£4.10
Crispy Combination
Spare ribs (2), Spring Rolls (2), Won Ton (2), Sweet & Sour Chicken (2)
£6.00
Crispy Duck & Pancake
6 Pancakes
£7.30
Minced King Prawn & Ham Crispy Rolls (2)
£4.50
Salt & Pepper Box
Salt & Pepper Chicken Wings, Salt & Pepper Ribs, Salt & Pepper Chicken Pieces, Salt & Pepper Chips, Crispy Spring Rolls, Onion Rings & Curry Sauce or BBQ Sauce
£9.00
Contact Us
Find Us
46 Penny Lane, Liverpool, L181DG
We deliver to
L15, L16, L17, L18, L19, L25, L8